Cora Herrendorf 
In 1974 she founded the Comuna Nucleo in Buenos Aires with Horacio Czertok, with which she will leave Argentina four years later and settle in Italy, in Ferrara, where the group will take its current name of Teatro Nucleo. From 1974 up to today she works as an actress and/or director in most of the productions of Teatro Nucleo.
Since then, in conjunction with her work as an actress and director, she has been involved in the implementation of theatrical research techniques to therapies for the recovery of the psychophysical disabled and works in various public and private psychiatric institutions and communities for former drug addicts in Argentina, Germany, Norway, Sweden, Italy.
This long applied research led her to found in 1995 in Ferrara the CETT, "Centro per il Teatro nelle Terapie" (Centre for Theatre in Therapies), where she deals mainly with the training of sociomedical operators, through the School for Theatre Operators in Social "L'Attore Sciamano" which she directs at the Julio Cortazar Theatre.
In 2007 she founded Donne Comunitarie (Community Women), a community theater group of gender, for which she directs the shows "Signora Memoria" (2007), "La Balera di Filomela" (2009) and "Asylum – il manicomio delle attrici" (2012). For more than forty years she has been holding training seminars for young actors and has developed her own peculiar pedagogical methodology that makes her appreciated as a Theatre Teacher in various parts of the world.
Horacio O. Czertok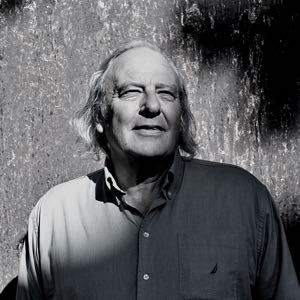 Co-founder and President of Teatro di Nucleo s.c. a r.l., the director, playwright and actor, Horacio Czertok is also the author of the book "Teatro in esilio", published in Italy by Bulzoni in 2000 and by Editoria&Spettacolo in 2011. The German edition, for the types of Brandes&Apsel Frankfurt a. Main is from 2001, while in 2013 is the Hungarian edition (Kjarat, Budapest). In 2016, under the title "Theatre of Exile", Horacio Czertok's book is published by Routledge, London-New York.
Emeritus scholar at the Psychiatric Clinic of the Universities of Ferrara, Modena and Reggio Emilia, and holder of the Degree Course in Psychiatric Rehabilitation from 2001 to 2012. He is responsible for the projects of theater applied to mental health of the Teatro Nucleo, starting from the experiences of the Psychiatric Hospital of Ferrara (1977) until 2017. He also directs the theatrical activities addressed to patients of the DSM of Ferrara and Copparo from 2006 to 2012. From 1993 to 2004 he has been Director of the Theater Laboratory of the University Theater Center of Ferrara. He has been Director of the permanent Theater Laboratory at the Casa Circondariale G. Satta in Ferrara since 2005 and founder of the Emilia Romagna Prison Theater Coordination, he is coordinator of European projects, Erasmus+ strategic partnerships of the Teatro Nucleo and Ambassador of the Italian national agency of the European platform EPALE.
Natasha Czertok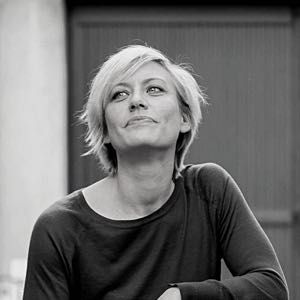 She graduated with honors in Public Communication of Culture and Arts (Faculty of Humanities of the University of Ferrara) and graduated from the School of Higher Education "The Theatre as a tool for educational professions" (Faculty of Education Sciences of the University of Bologna). She was trained at Teatro Nucleo, where she has been working since 2001, as an actress in most open-air, unconventional and theatrical productions in all national and international tours. She has studied classical and modern dance with Gladiola Orozco of the Ballet Teatro del Espacio (Mexico D.F), and contemporary dance with many masters, in particular Giorgio Rossi (Sosta Palmizi), Michele Monetta, Yves Le Breton (body mime), P.P.Koss (Butoh), Roberta Carreri, Judith Malina, Emma Dante, Alessandro Berti. He founded Garabombo Teatro (1999-2001) and the urban arts festival "Urbanica" of Ferrara. For Teatro Nucleo she curates the Totem Arti Festival (2012-2018) and Totem Scene Urbane (first edition was launched in 2019) and the project of artistic residencies "Cose Nuove" (New Things). She teaches body expression at the School of Training for Theatre Operators in Social "L'Attore Sciamano" (Teatro Nucleo). She leads pedagogical projects in institutions, schools and various areas of social distress. From April 2013 she collaborates as an expert in Communication and Theatre Training to the Community Lab participatory process founded by Agenzia Sanitaria e Sociale Regione Emilia Romagna for the Province of Ferrara. Among her theatrical productions are: "Domino" (production Teatro Nucleo 2018) "Tenebra" (theater, directed by Natasha Czertok and Davide Della Chiara) "Luce nell'ombra"(theater) -Selection "Premio Scenario per Ustica" 2014, the children's theater shows "In the bottle" and "Chenditrì-L'albero delle caramelle", "Knot"(teatrodanza), finalist at the prize "The Voices of the Soul" 2007.
Martina Pagliucoli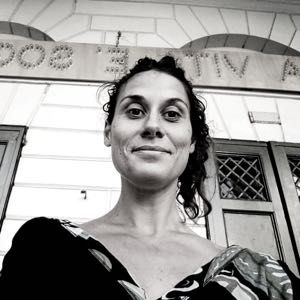 Graduated in Anthropological Sciences at the University of Bologna after a research trip to Odin Teatret, with an interdisciplinary thesis between theater and anthropology: "Vindenes Bro. An example of transcultural theater", following the path of the Ponte dei Venti coordinated by Iben Nagel Rasmussen. She also trained with Othiasos-Teatro Natura , Michele Monetta, and at the Teatro Ridotto. In 2010 she took part in the documentation and memory project "I Confini dell'Umano" under the direction of Pietro Floridia and Alicja Borkowska, which will result in the show "La Legge. Storie ai margini della Bossi Fini" directed by Pietro Floridia. Also in 2010 she took part in the show project "La Memoria della Carne" directed by Anna Dora Dorno, and in 2013 she started training at Teatro Nucleo where she has been working permanently since 2014 as an actress, organizer and creator of training projects.
Marco Luciano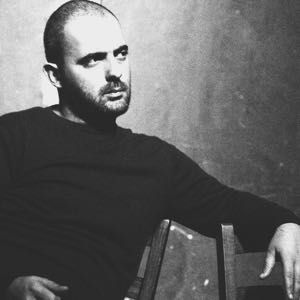 He studied Literature and Philosophy at the University of Naples Federico II. He began his artistic career at a very young age with the company "I Refrattari" of Caserta with which he staged various shows of commedia dell'arte. His training led him to study with important masters at national and international level. Yves Lebretòn, Eugenio Barba, Enzo Moscato, Cora Herrendorf, Peppe Lanzetta, Horacio Czertok, Bruno Leone, Lucio Dalla. In 2003 he joined the C.R.A.S.C. (Centro di Ricerca sull'Attore e Sperimentazione Culturale di Napoli), then directed by Lucio Colle.
With the C.R.A.S.C. he worked on various shows both as actor and director. Among the most important experiences of this collaboration: "Naples. Inside. Day." ( conceived and directed) produced by Napoli Teatro Festival in 2012, "Barbarella e altre lontananze…". (directed by Peppe Lanzetta).
From 2005 to 2013 he managed STUDIOTEATRO an independent theatrical proposal space in the heart of the historic center of Naples giving life to "L'Indispensabile/permanent review of independent theater".
In 2009 he founded the group A.R.T.I. Area Ricerche Teatrali Indipendenti with which he created numerous shows as a director, including "Candido" (winner in 2011 of the prize "Home" organized by the Holden school directed by Alessandro Baricco) and "Lontano nella Neve/storie d'amore e resistenza…" (2016/ winner of the prize Accendi la Resistenza organized by the Museum of Resistance and the Polo del '900 of Turin). In 2011 he founded the Permanent Observatory for New Languages of S.Agata de' Goti (Bn).
In Turin he organized the M.O.S. Festival of Theatre for the big spaces of the city of Moncalieri and the review "T.P.F./Teatro di Piccolo Formato" in collaboration with the Superga Theatre of Nichelino, as well as directing from 2014 to 2017 a permanent creation workshop for psychiatric patients and university students in collaboration with the Asl of Turin 1 and the association Mente Locale.
In 2018 he began his collaboration with Teatro Nucleo as an actor, director and organizer and he works in the project of Theatre Workshop with the actors-inmates of the Casa Circondariale "C. Satta" of Ferrara.
Veronica Ragusa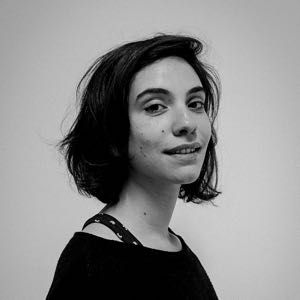 Actress, director, theatre trainer, she trains by attending many artistic environments in Piedmont. Since 2019 she collaborates with Teatro Nucleo dealing with pedagogical projects for children, teenagers and adults, organization and cultural planning. The most important experiences and educational value that lead her to the acquisition of the skills that she now offers are the three-year degree course at the DAMS of Turin in the theatrical field, the diploma at the Atelier of Physical Theatre by Philip Radice, the course of Singing, Theory and Jazz Solfeggio in the Civic School of Music of the city of Turin, the many years of working with the company A.R.T.I. (Area Ricerche Teatrali Indipendenti) directed by Marco Luciano, the actor training with Lucio Colle. For many years she also worked as a street artist, travelling all over Europe with single or group shows, an experience that has led her to fall in love with the direct and sincere encounter with the public and to walk on many unconventional stages, squares, streets and urban places in general – acquiring a poetic, social, open political vision of these, which permeates her actions in the activities she promotes and in which she takes part.
Maria Donnoli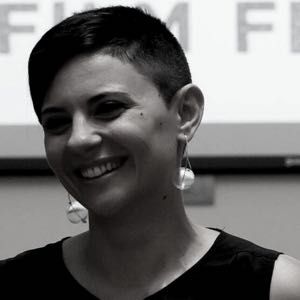 Expert in design, organization and communication, sectors in which she has been working for over fifteen years. First in multinational corporate contexts and then in the artistic-cultural field which today represents her main channel of action. Graduated in philosophy at the University of Bologna, she then specialized in multimedia communication at the University of Lecce and in Project Management (ENFAP), she crosses and merges languages and skills – from performing arts to radio, from social media to national press office. Since 2010 she has been the organizational and communication director of the contemporary multidisciplinary arts festival "perAspera", through which she has come in touch with many representatives of contemporary artistic research. Since 2018 she has been in charge of the press office and social communication of Teatro Nucleo.
She also collaborates with Ateliersi, Cronopios, Scie Festival, Closer Festival, Totem Scene Urbane, Coordinamento Teatro Carcere Emilia Romagna. He has lectured in the field of communication and event organization.