A new tour in Argentina for the monologue by Horacio Czertok, based on his famous and awarded street theatre show "QUIJOTE!"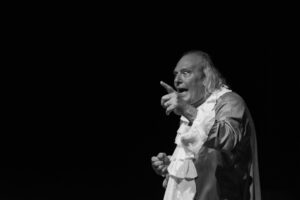 Horacio Czertok will be on stage with "Contra Gigantes" in four performances: on September 13, he performs in Santiago del Estero, on September 17 in Pergamino, on September 19 and 22 in Buenos Aires.
Contra Gigantes is based on his show for open spaces QUIJOTE! that for thirty years has gone through theaters and streets in many countries around the world.
In 1990, in fact, Horacio Czertok wrote a dramaturgy for Teatro Nucleo company from the masterpiece of world literature Don Quijote de la Mancha by Miguel de Cervantes. In co-production with the Theater-am-Turm in Frankfurt, the show had over 400 performances in three continents, participated in dozens of international festivals and above all went through villages and suburbs without theater.
After a few years, the Argentine dramatist and actor transformed the show for open spaces, Critics' Award at the Cervantino Festival in Guanajuato (Mexico), in the soliloquy Contra Gigantes, pointing the lights on those giants – a metaphor for the forces that hinder the transformation of society – against whom the errant knight fights.
And Don Quijote is not the only protagonist of Contra Gigantes: together with him on stage there are Sancho Panza, Don Miguel de Cervantes and Czertok himself, all in close relationship with each other and with the spectators, to compose a monodrama with multiple voices, which will give an immediate interpretation of the theater philosophy and the dramaturgical and acting practice of Teatro Nucleo to the audience in Argentina.
Natasha Czertok will be on stage with "Kashimashi" in Buenos Aires
Natasha Czertok stages a "private bestiary" that insinuates itself, with a good dose of self-irony, into the dynamics linked to what we usually define as "normality" and to the stereotypes in which we recognize ourselves, which we reject, in which we feel forced. The performance is guest of Grupo de Teatro Callejero La Runfla on September 23 in Buenos Aires. 
Kashimashi is the new study carried out by the actress and director Natasha Czertok of Teatro Nucleo, born within the framework of a research on the themes of women and gender representation. It was presented with the provisional title of "Private Bestiary" at the festival Altre Visioni Coltano (Pisa), as well as at the Festival Totem Scene Urbane in Pontelagoscuro (Ferrara) and at the International Frauen Theater Festival in Frankfurt.
The title ironically resumes a stereotypical and discriminating use in the Japanese language: Kashimashii means in fact "noisy, chaotic" gift of a traditional perspective that makes a women's shed as the source of confusion and disorder.