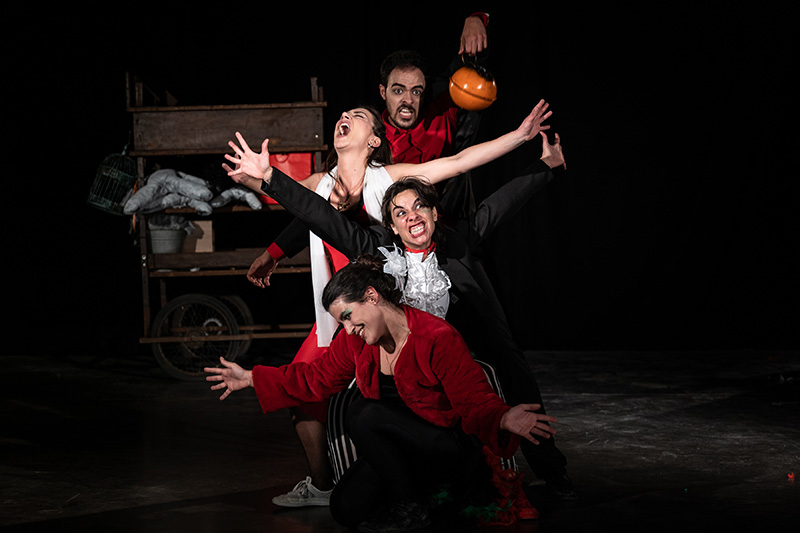 Dramaturgy and Direction Marco Luciano
With Veronica Ragusa, Riccardo Sergio, Martina Pisacane, Giacomo Maccanti
The concept of heresy over the centuries has been given a substantially negative meaning, especially linked to the Christian religion but in reality, the term "heretic" comes from the Greek airetikos, the one who chooses, who elects, grabs.
Heretic is a poetical dream in homage to Giordano Bruno; by letting ourselves be inspired by his lyrics and those of Antonin Artaud, in the permanent creative workshop, attended by the young actors of the Teatro Nucleo, we worked on an irreverent, lashing dramaturgy, which consists of music performed live, choral choreographies, images of fire and poetic actions, through which the various characters interact with each other, with the public and with urban architecture.
Meeting the public is a dialectical element necessary for the theatrical creation.
Art and theatre especially need to be dialectical and often antithetical to the society they live in, they have the right and duty to embody ideas and visions opposed to commonly accepted opinion in order to trigger the process of transformation we so much aim for.
A modular theatrical performance whose dramaturgy is articulated in seven stations, seven like the deadly sins, seven like the theological virtues, the sacraments, the arms of the Jewish candelabra, the days of the week, the years it takes our body to regenerate itself, the veiled worlds of Maya, the symbols of Roman numerals, the seals that will announce the end of the world.
Heretics is a journey, a metaphorical path through which the spectator can choose what to see, what to listen to, in which dream or fear to dive into; his freedom of choice, the possibility of not being "hostage" of the performance allows him to experience new possibilities of fruition and participation.
Duration 60 minutes