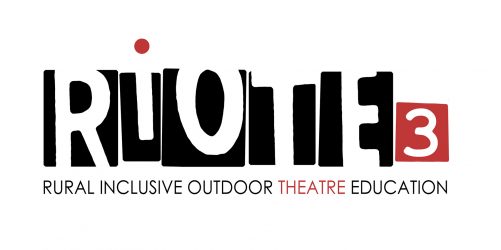 After attending the first Multiplier Event in Pécs, Hungary, on June 27th, Teatro Nucleo will also be present at the second joint staff training event in the context of the RIOTE 3 – Rural and Inclusive Outdoor Theatre Education project.
The event is organized by the French company Une idée dans l'air [VIDEO] from June 30 to July 5 between Apt and Villars in Provence. These days will be an opportunity for the various international companies to share techniques and theatrical methodologies through workshops and present their show to partners and the local community.
On July 2nd Veronica Ragusa and Marco Luciano will hold a workshop from 10:00 to 15:00 in the charming location of Ocres des Bruyères in Villars.
In the same natural theatrical space they will stage Monday 4 July at 7 pm "Fugue in Me Minor": the courageous and fragile love story between Arthur Rimbaud and Paul Verlaine is Veronica Ragusa's and Marco Luciano's narrative pretext for the creation of the solo. A controversial, scandalous, wrong, sublime, violent story, full of selfishness and emotional greed, paved with unwritten verses, as bright as children's play. The story of a love on the run, or of the escape from a love.
RIOTE 3 is a partnership project Erasmus+ KA2 constituited by companies from seven different countries: Italy, Hungary, Romania, Slovenia, Germany, France and the UK.
The RIOTE 3 project is based on practices for adult education with the aim of revitalizing culture in socially marginalized environments by proposing: dialogic approach, critical thinking by revealing social problems, trigger the visualization of social change, interactive cultural exchange, empowerment of the community, collective education, development of multiple intelligences, strong pedagogical aspect and collaborative process.