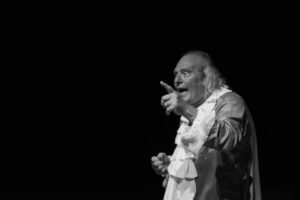 Production Teatro Nucleo
Texts and Direction Horacio Czertok
With Horacio Czertok
In 1990 Horacio Czertok wrote a dramaturgy for Teatro Nucleo based on the novel Don Quijote de la Mancha by Miguel de Cervantes Saavedra. A co-production with the Theater-am-Turm in Frankfurt (DE) resulted in a performance for open spaces, the debut of which took place in Spain at the Classic Theatre Festival in Almagro.
A successful tour followed, with revivals every year until 2007: hundreds of performances on three continents, dozens of international festivals, but above all appearances in villages and suburbs without theatre. As a playwright, Czertok became Don Quijote.
The character did not willingly accept the end of the play and began to appear in dreams to the playwright-actor: he wanted to return to life, even a stage life. So Czertok decided to make a soliloquy, a monodrama with several voices.
The famous novel is actually one of the most famous, most quoted and therefore least read. The aim, therefore, in addition to re-establishing the restless character in view of a future revival of the great open-air play, is intended to have a double significance, that is both theatrical and cultural.
In fact, the play identifies the various giants with which the Don fights or wants to fight, in addition to the proverbial Mill. It has deepened the research done in 1990 on the novel, the author and his time, leading to new discoveries. On stage, we see the actor, the character Don Quijote, Sancho Panza, Don Miguel de Cervantes, all in close relationship with each other – often conflicting – and with the spectators, invited and enticed with this work to deepen their own knowledge of the extraordinary novel.